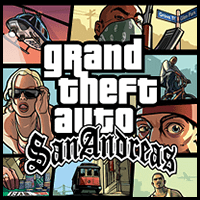 Grand Theft Auto: San Andreas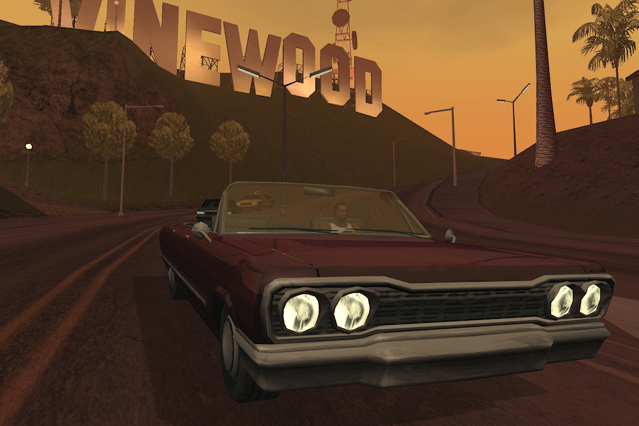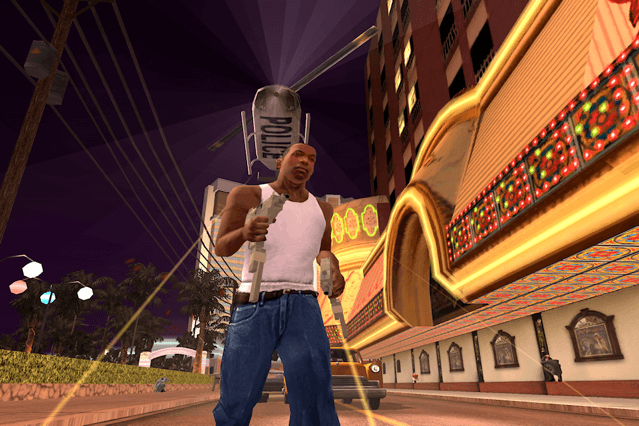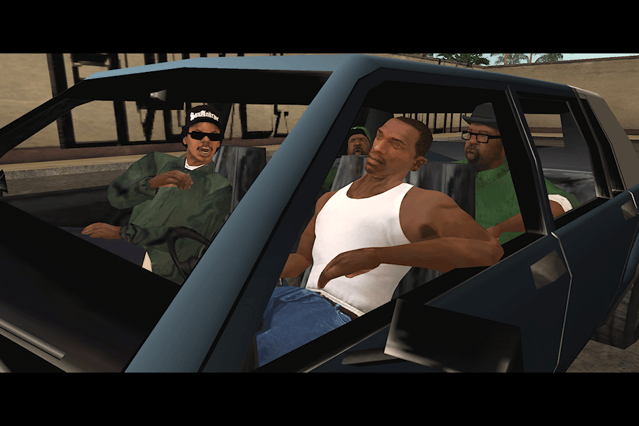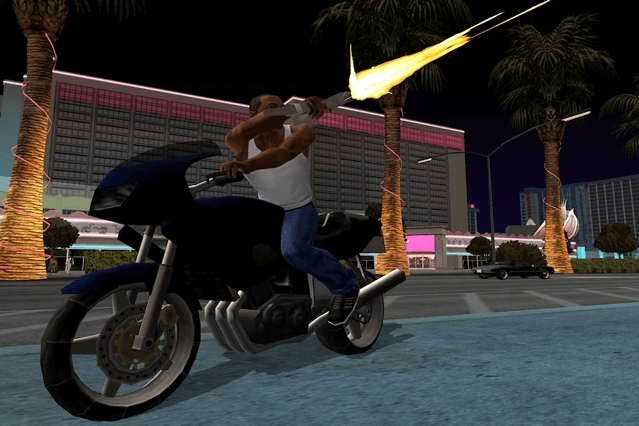 Get The Game
This game's download link redirects to App Store and Google Play, while the purchase link redirects to Amazon. Neither of the links contain malware nor viruses, please feel free to try it out!
Editors' Review
Grand Theft Auto: San Andreas ©Copyright by FunGameShare, Do not Reproduce. By LeeLa

Grand Theft Auto: San Andreas is the third installment of the GAT (Grand Theft Auto) series. It is a simulation adventure video game. It was first released for PS2 (PlayStation 2) in October 2004 and was the highest selling PS2 game of the year.
The game is set in 1992.CJ (Carl Johnson) the protagonist returned to his home in Los Santos after knowing the news of his mother was killed. He found his own family and The Grove Street Families is about to fall apart. There CJ establishes his own business to revitalize the family while slowly uncovering the truth about the cause of his mother's death. The game is geographically set in the fictional state of San Andreas, based on realistic portions of California and Nevada. The game involves three cities, multiple highways, a railroad system and three airports connected to it. The city is surrounded by three counties with a total of twelve towns.
Grand Theft Auto: San Andreas is free to play. It is rich in content, and realistic in its action. Its story is touching. Grand Theft Auto: San includes more interactive buildings than the first two series. Such as bars, banks, convenience stores and casinos. Players can not only climb the 800-meter-high Mount Chiliad and play parachute jumping in different peaks but also play in major scenic spots, including Sherman Dam based on Hoover Dam, Area 69, a large secret military base referencing Area 51, Vinewood sign based on the Hollywood sign, etc. The third installment also adds more physical characteristics of the characters, such as hunger, obesity and muscle changes, and players are free to meet girlfriends in the game. The game is slightly controversial for crime, gang activity, prostitute activity, casino gambling, etc. In order to increase the fun of the game, additional mini-games such as billiards, basketball, dancing, and TV game machines are also added.
Grand Theft Auto: San has been named the best PS2 game. It scored 9.9 on IGN, the highest rating given to a PlayStation 2 game on the site. grand Theft Auto: San is regarded by many game reviews as the greatest game ever made, but the game's sex and violence scenes are also controversial, making the game more suitable for adults.
Description
Rockstar Games brings its biggest release to mobile yet with a vast open-world covering the state of San Andreas and its three major cities – Los Santos, San Fierro and Las Venturas – with enhanced visual fidelity and over 70 hours of gameplay.


Five years ago, Carl Johnson escaped from the pressures of life in Los Santos, San Andreas, a city tearing itself apart with gang trouble, drugs and corruption. Where filmstars and millionaires do their best to avoid the dealers and gangbangers.
Now, it's the early 90's. Carl's got to go home. His mother has been murdered, his family has fallen apart and his childhood friends are all heading towards disaster.
On his return to the neighborhood, a couple of corrupt cops frame him for homicide. CJ is forced on a journey that takes him across the entire state of San Andreas, to save his family and to take control of the streets.
Rockstar Games brings its biggest release to mobile yet with a vast open-world covering the state of San Andreas and its three major cities – Los Santos, San Fierro and Las Venturas – with enhanced visual fidelity and over 70 hours of gameplay.
Grand Theft Auto: San Andreas features:
• Remastered, high-resolution graphics built specifically for mobile including lighting enhancements, an enriched color palette and improved character models.
• Enhanced for the iPhone 5 series and iPad 4th Gen and above with dynamic detailed shadows and real-time environmental reflections.
• Physical controller support for all Made for iOS controllers.
• Cloud save support for playing across all your iOS devices for Rockstar Social Club Members.
• Dual analog stick controls for full camera and movement control.
• Three different control schemes and customizable controls with contextual options to display buttons only when you need them.
How To Play
After understanding the peripheral elements such as plot, screen, music, etc., you need to be familiar with the operation feel of the game on mobile devices. The game uses virtual joysticks and buttons. You can adjust the angle of the screen by touching the screen. If you usually just play tower defense or parkour games on your phone, it will take a while to adapt.


Another feature of the mobile version operation is the addition of some gesture operations. For example, the player can tap a character to aim, slide the screen to switch targets, drag the bottom of the screen to manually aim, double-tap the left side of the screen to crouch, double-tap the right side of the screen It takes a certain amount of time to adapt.


For driving, the game provides three driving operation modes. The position of the throttle is placed next to the reverse gear in the lower right corner of the screen. On the right side of the screen, there are four buttons of the camera, whistle, get off, and hand brake. After you have a small submachine gun, there will be four buttons on the left side of the screen. The shooting button appears. If it is a small screen device, these buttons will appear to be a bit congested, but the operation accuracy is still very good.
Comment
You may like it.