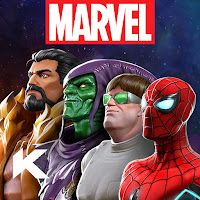 Marvel Contest of Champions
Platform :
Size : 103M
Date : November 30, 2020
Version : 29.1.0
Devoloper : Kabam Games, Inc.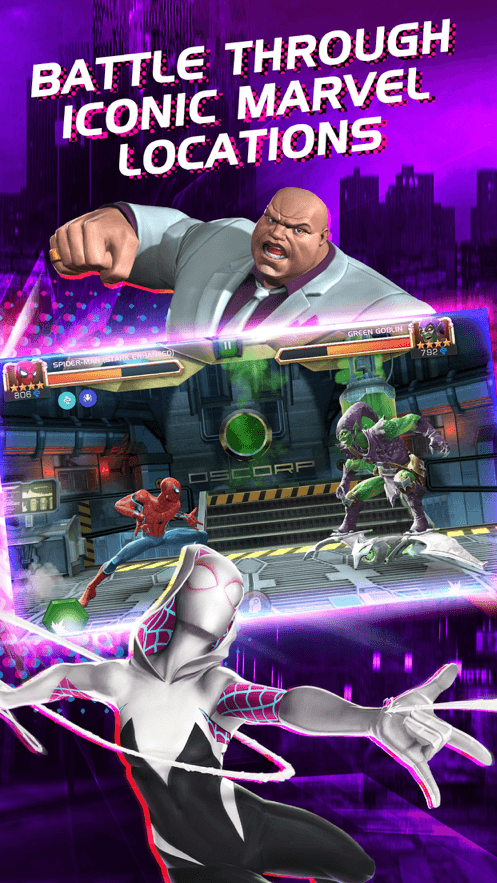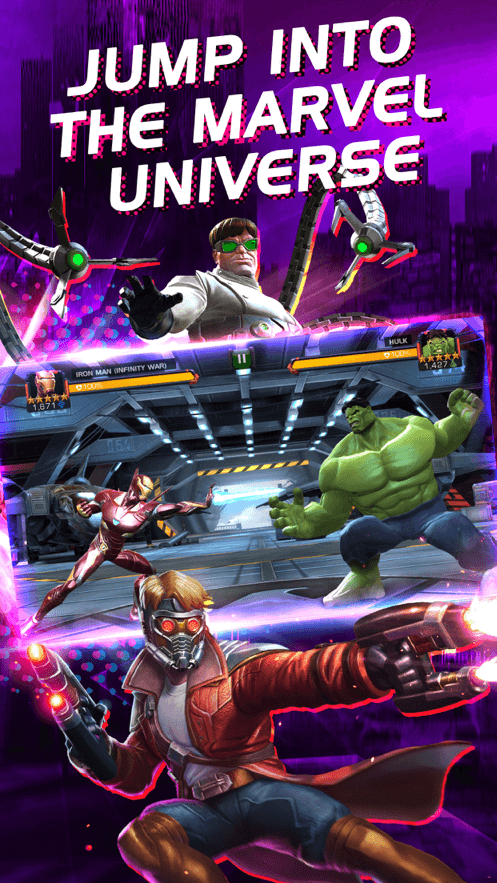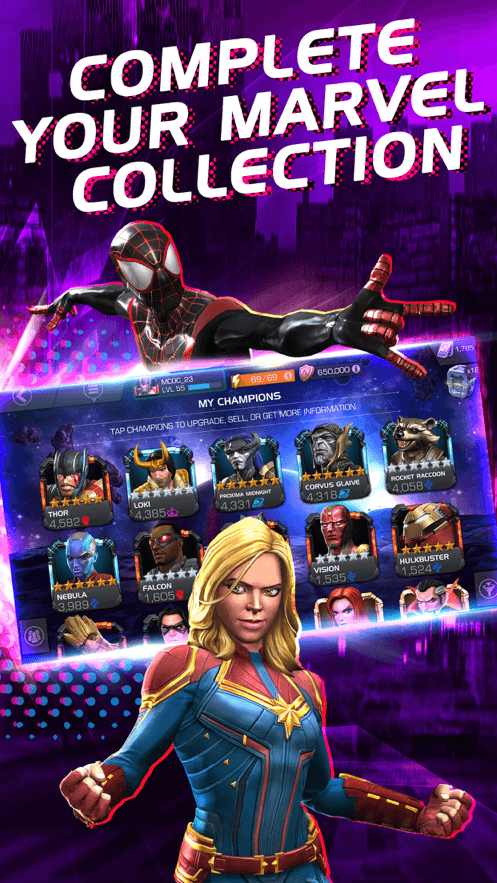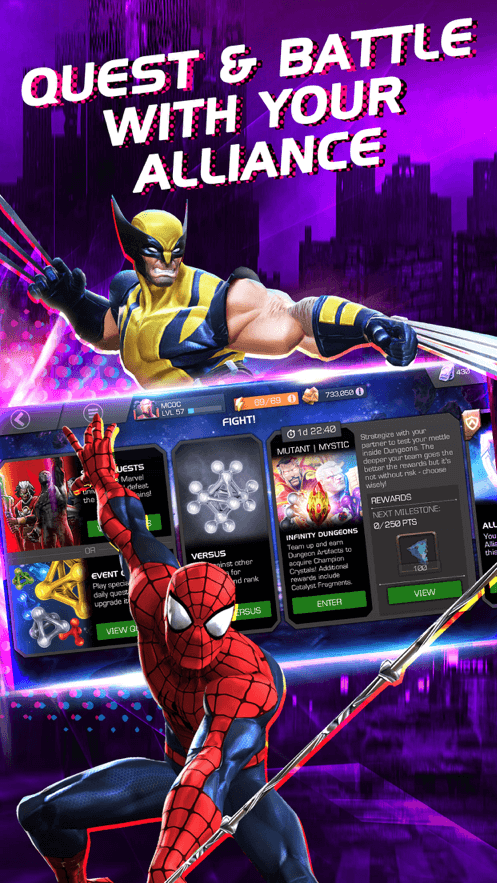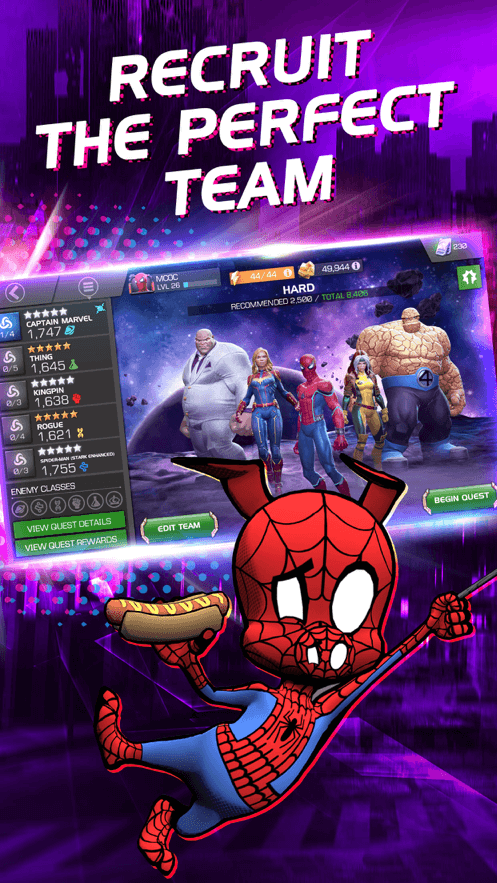 Get The Game
This game's download link redirects to App Store and Google Play, while the purchase link redirects to Amazon. Neither of the links contain malware nor viruses, please feel free to try it out!
Editors' Review
Marvel Contest of Champions ©Copyright by FunGameShare, Do not Reproduce. By Alex

Speaking of Marvel Universe, I think everyone here who's reading this article must be familiar with it, characters like Iron Man, Thor, Spider-Man, and Captain America are the superheroes that we all are fascinated about. And the very game I would like to share with you guys today is Marvel Contest of Champions, an epic fighting video game published by the AAA-level free mobile gaming company Kabam. Now let me tell you everything you need to know about it.

As we all know FTG(Fight Technology Game) are evolved from the fight games, the rather famous FTG including Street Fighter, Samurai Shodown series and The King of Fighters series, etc., The game of such kind is more difficult to operate than other games. Do you want to win? then you need to be sharp, fast minded and keep practicing. Because in FTG, it's all about the players' rapid judgment and micro-operations. The competitiveness and challenging nature of a game of such kind is the most attractive place for players. But you don't need to worry if you are a freshman in FTG, because it is quite kind for FTG newcomers. On the other hand, the biggest feature of FTG is that there are no conventional elements such as plot, story and development system, and even the background, game characters, dialogue and so on are relatively simple.
But you will never find such dullness in Marvel Contest of Champions because as the name suggested, the story of this game is based on Marvel Universe. The plot, dialogue and other features are all derived from the Marvel universe story. The game adopts a traditional one-vs-one-action fighting mode. Players can use champions from Marvel movies and comics to fight on the field. The game starts with an introduction to the story in a comic book style, and then you will be taught how to fight. It's amazing to see how refined the graphics and characters are, and It's fascinating to control with the Marvel super heroes or supervillains you like. There will be two relatively weak champions for you at the very beginning, but with the process of the game, you will be rewarded with crystals, which give you chance to unlock more champions.


So in my opinion, no matter in controls, actions or graphics, Marvel Contest of Champions is way better than most FTG games. The game doesn't have a virtual button mode like other FTG games, instead it adopts a full touch design. Each champion moves in a different way, I can play 24 hours a day with a break! And the screen also reached the top level of mobile games, you can say it is an FTG masterpiece on any mobile platform.


After playing this game for months, I found serval advantages over other mobile games. First, the balance in the game is a bright spot, as paying players don't get a huge advantage in the game, it's more about control and practices. Second, the addition of PVP to the game is also an important factor in keeping players in the game. It's just like playing fighting games in the video game room like the good old days. You can experience real PVP pleasure no matter you play solo, arena, or indifferent dungeons. High quality pictures and game modeling are also two major points that attract us. Compared with other mobile games, you don't need to spend all your time on them, and you also don't need to break your bank, so it is really suitable for leisure.


In a conclusion, this is the best Marvel game I've ever had (and maybe the only one)!


Now summoners, it's the time to assemble your bring up your favorite Marvel superheroes and super villains to win the battle in a Contest of Champions!
Description
In Marvel Contest of Champions, you can choose your favorite characters to start fighting! Each character has cool skills to let you experience the fun of fierce fighting. Players who like Marvel and fighting must not miss it!


Prepare for epic versus-fighting action with your favorite Marvel Super Heroes & Super Villains in the ultimate cosmic showdown! Spider-Man, Iron Man, Wolverine & more await your summons to battle! Assemble a team & begin your quest to become the Ultimate Marvel Champion!
How To Play
SUIT UP WITH FRIENDS:
• Team up with your friends and other Summoners to build the strongest Alliance
• Strategize with your alliance, help them keep their Champions in the fight
• Battle to the top in Alliance Events and take on Alliance Quest Series together in specially designed quest maps to earn exclusive Alliance rewards
• Test your Alliance's mettle by battling it out with Alliances from around the world in Alliance Wars!
BUILD YOUR ULTIMATE TEAM OF CHAMPIONS:
• Assemble a mighty team of heroes and villains (choosing Champions such as: Iron Man, Hulk, Wolverine, Storm, Star-Lord, Gamora, Spider-Man, Deadpool, Magneto and Winter Soldier)
• Embark on quests to defeat Kang and Thanos and face the challenge of a mysterious new super powerful cosmic competitor, ultimately to prevent the total destruction of The Marvel Universe
• Improve your team's offense and defense with multiple Mastery trees
COLLECT THE MIGHTIEST SUPER HEROES (AND VILLAINS!):
• Collect, level up, and manage your teams of heroes and villains wisely to receive synergy bonuses based upon team affiliation and relationships taken from the pages of Marvel Comics
• Pairing up Black Panther and Storm or Cyclops and Wolverine for bonuses, or making a team of Guardians of the Galaxy for a team affiliation bonus
• The more powerful the Champion, the better their stats, abilities and special moves will be
• New Champions are being added to The Contest all the time!
QUEST AND BATTLE:
• Journey through an exciting storyline in classic Marvel storytelling fashion
• Fight it out with a huge array of heroes and villains in iconic locations spanning the Marvel Universe such as: Avengers Tower, Oscorp, The Kyln, Wakanda, The Savage Land, Asgard, the S.H.I.E.L.D. Helicarrier, and more!
• Explore dynamic quest maps and engage in a healthy dose of action-packed fighting utilizing controls developed specifically for the mobile platform
Comment
You may like it.